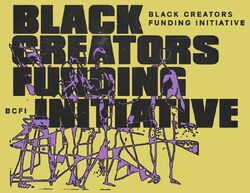 The Black Creators Funding Initiative (abbreviated as Black Creators Fund or BCFI) is a fund created by Halsey to help black creators through donations and by amplifying their art, voices and perspectives.
The fund mainly focuses on black artists, poets, writers, graphic designers, film makers, music producers, journalists, make up artists but also on black creators of any kind. It fund was launched on June 12, 2020. Creators can apply to the fund through social media by using the hashtag "#BLACKCREATORSFUND" and Halsey is hoping to continue the fund "throughout the years to come".[1]
In addition to receiving $10,000 USD[2] funds, the creators are promoted on Halsey's social media platforms and are provided with resources, information and points of contact.
Down below is a list of all the fund's recipients.
Recipients
Freddie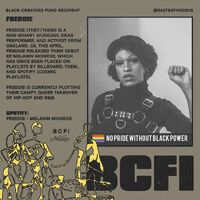 Highlighted work: Music, their EP Melanin Monroe
Freddie is a non-binary musician, drag performer and activist from Oakland, CA. In April 2020, Freddie released their debut EP, Melanin Monroe which has since been placed on playlists by Billboard, THEM. and Spotify's "Cosmic Playlist".
They are currently plotting to a campy, queer takeover of the hip-hop and R&B genres.
Asata
Highlighted work: Designing
Asata Maisé, a 27 year old (at the time of receiving the funds) designer from Wilmington, Delaware learned basic sewing and garment construction when she was 14 years old. Her personal philosophy and immersion into diverse cultures has helped shape her learned experience into a niche of her own.
Garment making quickly became her favorite pastime during the remainder of her high school years. She began freelance designing in 2016 after a sequence of internships and jobs at Michael Costello Couture, Odd Future/Dystro, LLC, Diane von Furstenberg, and palmer//harding. Although accepted into notable universities, such as London College of Fashion, she opted for hands on experience in the industry. These opportunities placed her in the metropolitan cities of Los Angeles, London, and New York. The designer is a passionate history buff drawn especially to eras of social revolution. She believes we each have an obligation to be aware of current issues in order to create solutions for a better future. This is reflected in the choice to use reclaimed and true vintage materials in the process of bespoke garment making.
Click "expand" to learn more about the creator.
Sanni Kehinde
Sanni Kehinde, known professionally as Kennypenfreak (born 1994), is a self taught artist living and working in Lagos, Nigeria. Kennypenfreak is a Ballpen artist that hails from Ogun state, who started drawing when he was 6. He defines his process as "a practice in time and patience", working approximately 200 to 400 hours on a single decently sized piece. Starting at the early age of 6, Kennypenfreak had always been enthusiastic about drawing realistic portraits on paper. Being exposed to realistic artworks he viewed online, Kennypenfreak grew to love the ballpen as a toy at a very tender age. Over the years He gradually taught himself how to master his pen in harmony as a medium to express himself through Patience, Practice and Persistence. These have guided him throughout his journey as an artist.
References
Community content is available under
CC-BY-SA
unless otherwise noted.