Christopher "Chris" Frangipane is the father of Halsey, Dante Frangipane and Sevian Frangipane, and the grandfather of Ender Ridley Aydin. He is married to Nicole Frangipane.[1]
Life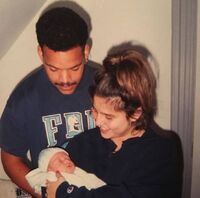 He studied at Fairleigh Dickinson University in New Jersey and graduated in 1997. Chris met Nicole, mother to Ashley when they were both in college.[1] The both had to drop out of college for a while to prepare for the baby.[1] The couple struggled to make ends meet which led to their constant relocation.[1] They gave birth to their first born daughter, Ashley Frangipane (stage name Halsey), in 1994 and later in 1998 to Sevian and in 2005 to Dante Frangipane.
Frangipane also accompanied his daughter to the 2017 Grammys.[2] Halsey shared that she and her father would joke around at the beginning of her career that if she ever got invited to go to the Grammys that she would bring him as her date.[2]
In one of her Instagram posts, Halsey shares that she thinks about her dad when she is scared. She also mentions that Chris gave her whatever she asked for and always sought for a better job to give his kids everything necessary.[3]
Reference